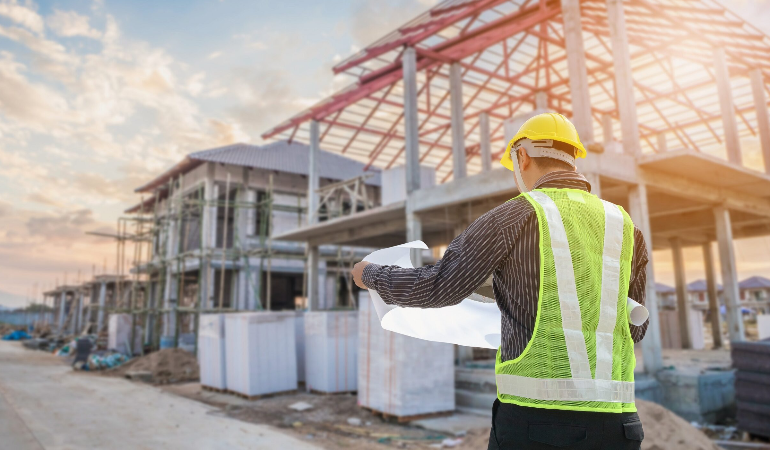 Get Your Certificate in the Construction Domain with SITS College
In Australia and among most nations across the world, the construction industry is in a boom. With a rising population arises the need for more residential and commercial developments, social spaces, and infrastructure. Construction, the third-largest sector in Australia, is sprouting with an abundance of career choices leading you on a path toward global exposure.
Due to its widespread domain, there has always been a surge in well-trained and skilled construction workers in Australia. Millions of people from all over the world flock to Australia making it one of the most exciting and diverse domains to work in. If you're captivated by buildings, and skyscrapers and looking for a career that's as varied as it is promising – you're in the right place.
Whichever area you intend to specialise in, you'll find this industry to be perpetually evolving. Moreover, along with the right formal training and qualifications at hand, you'd be astounded by the countless opportunities knocking at your door.
Validate your knowledge with industry-recognised construction qualifications.
If working in the construction industry is your true calling, begin by building on your current qualifications and experience in this domain with building and construction qualifications.
Whether you're ready to switch jobs or a fresher out of school, picking a trade and starting an apprenticeship is a great way to start. For instance, CPC30220 Certificate III in Carpentry is a solid way to build your career leading you to further progress with advanced qualifications like Certificate IV in Building and Construction and Diploma of Building and Construction. After completing an apprenticeship, you become a qualified tradesperson. And trust us when we say that this is just the beginning with no dearth of opportunities.
The Course: CPC50220 Diploma of Building and Construction (Building)
Construction qualifications from SITS College are the industry standard for assessing and acknowledging candidates' professional knowledge, skills, competencies, and abilities. Earning a certification validates your knowledge, can boost your career, and sets you apart from your peers.
SITS College's Diploma of Building and Construction is a popular choice for many tradies wanting to upgrade their skills to advance and build a robust career. If you're geared up to tackle bigger challenges and start your own building business, then this vocational course is apt for you. Armed with the Diploma of Building and Construction, where employers seek university-level qualifications favourably, you can pursue construction manager roles in both residential and commercial settings- across a range of fields. Along with relevant experience, a good work ethic, and a promising attitude- you'll have bountiful opportunities to elevate your career.
Designed for aspiring builders by our industry experts, this course will help you upgrade your building expertise further and graduate with an industry-relevant and nationally recognised qualification in this booming industry. Throughout the SITS College theoretical and practical learning sessions, you'll become well-versed with the principles, techniques, regulations, and required skill sets to flourish in this sector.
Learning at SITS College features a student-centric approach, industry-oriented curriculum, hands-on practical training, and interactive sessions for students with modern and extensive training facilities. High-quality training delivered by our distinguished faculty will help you enhance your current skills to attract hiring managers and deliver top performance. Want to explore never-ending job opportunities in one of Australia's largest and fastest-growing sectors with SITS College?
Career Outlook
A career in construction can make you walk down countless paths from becoming a registered builder to a construction manager. On completing the Diploma of Building and Construction from SITS College, you can work as a registered builder where you can own and operate a licensed building enterprise in Australia. You can run a small to medium construction business within the industry. Ready to be your boss? Benefit from opportunities in today's job market by studying for a Diploma with us where you'll learn how to manage the complete construction of a residential, industrial or commercial building and take responsibility for your work.
A Diploma in Building and Construction is an ideal pathway for students with related qualifications to progress to a higher level of education in the field. Our graduates will be well-positioned to seek work in the burgeoning construction industry as a Builder, General Foreperson, Estimator, and Project Manager.
Work Placement
At SITS College, you get a great chance to learn and work with professional teachers and passionate researchers with strong connections to the industry. On-the-job training with your employer is combined with student-centric training and assessments with our trainer, as part of this work-based learning model. Our strong network connections with industry partners make our graduates the most employable in Australia. Feeling intrigued? SITS College aims to take students far beyond theoretical learning into practical application, with courses that are expertly designed to prepare them for their chosen careers.
Plan your future in the most sought industry in Australia. The Diploma of Building and Construction from SITS College is structured to suit your ambition. Get it now!