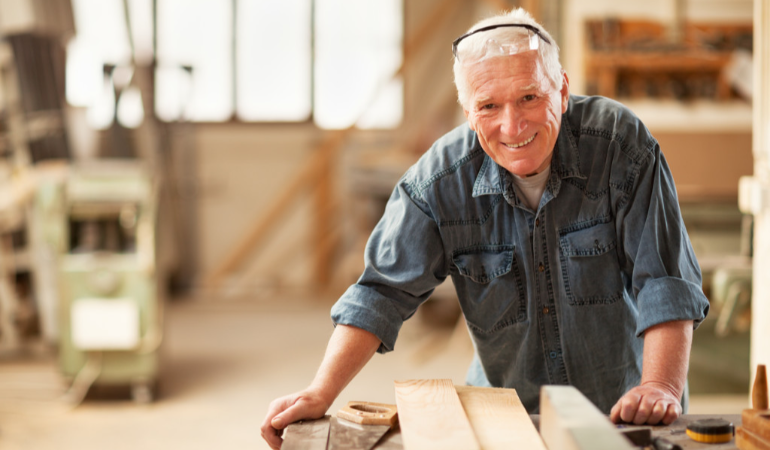 How Can Carpentry Certification Course Boost Your Career?
Certifications can be a powerful tool to portray your dedication to the industry. People earn credentials to enhance their job opportunities, generate a decent income, and stay updated on emerging trends or techniques relevant to their desired field. A simple way of boosting your employment prospects is by undergoing formal training. Learning new skills and most importantly, gaining certification can make you an attractive hire and allow you to demand higher wages.
Carpentry courses are curated to enable students to elevate their carpentry skills and knowledge to a professional level. Graduates holding carpentry degrees in Australia are among the most preferred candidates by the industry, thereby assuring them of competitive advantage. Obtaining these qualifications give you a leg up for job hunting, and will also increase your overall value. Wondering how a carpentry certification can boost your career? Is it worth learning? We say yes! It makes you more employable, gives you an extra set of skills, adds value to your resume, and accompanies bountiful opportunities your way.
Let's know how a carpentry course can boost your career and give you a strong foundation to excel.
Qualification
SITS College, offers CPC30220 Certificate III in Carpentry to students from all around the world. This vocational course enables you to gain hands-on experience and master industry-based woodwork skills from our experienced faculty. Our carpentry training program blends both theoretical classes and practical sessions which implements the strategies that help you gain skills and knowledge to thrive in the carpentry sector. This factual and practical know-how will be of great advantage to enhance your performance in your current role and where you hope to progress.
Develop career-specific skills
Carpentry is a skilled profession that covers an array of skills. Adding new skills to your repertoire can make you a more desirable hire by recruiters. Math Skills, Strength and Stamina, Mechanical and Fine Motor Skills, Communication and Customer Service, Critical Thinking, Active listening, Adaptability, Willingness to learn, Attention to detail, Teamwork, Problem-solving, and Creativity, are a few key skills you need to master by studyingCertificate III in Carpentry.
Career Outlook
CPC30220 Certificate III in Carpentry, is a nationally recognised qualification that authorises you as a qualified carpenter ready to work across Australia. Those who earn this qualification are generally poised for an array of positions ready to work in residential and industrial settings as a residential carpenter, commercial carpenter, and formwork carpenter. Do you know? The potential and opportunities that accompany our Certificate III course are inconceivable.
Work Placements and Building Connections
Once you've successfully completed your CPC30220 Certificate III in Carpentry, you'll see your career completely transformed and headed in a great direction. To ensure work placements are impactful, we encourage students to integrate real-life working scenarios into their studies, investigate what can be done better based on the course content, and apply their learning directly. When the methods and techniques students learn are used in actual working environments, they can make significant progress – capable of streamlining their productivity and identifying them as ripe for career progression.
Learning at SITS College gives you an opportunity to be exposed to a broader professional network through practical placements by meeting people who may be in similar situations like yours and who have continued to advance their careers. Your diversified network by owning a carpentry certificate can be a wealth of insight and information as you advance your own career.
Bright Future
Carpentry is a profession indispensable to our society. Currently, in Australia, there is a shortage of skills in the construction sector. The in-demand carpentry skills are making employers strenuous to fill vacancies for qualified carpenters. According to the Australian Government's Job Outlook Service, 69,000 job openings for carpenters are expected in the next five years.
Moreover, job prospects, career advancement, and carpenter's wages are appealing. The employment growth for carpenters is projected to be 8.1%* in the coming five years to 2025. The most common annual salary for a carpenter in Australia is between $55,000 to $65,000. Quite a few higher-level woodwork jobs are well paid – over $150,000 a year, depending upon your job title and skill.
Enroute to Opportunities
Further professional certifications are also popular as they indicate a higher level and externally verified level of skill and experience. Examples of this would be the CPC40120 Certificate IV in Building and Construction, CPC41120 Certificate IV in Building Project Support, CPC50220 Diploma of Building and Construction (Building), CPC50320 Diploma of Building and Construction (Management), CPC60220 Advanced Diploma of Building and Construction (Management).
Ready to advance into senior roles by refreshing your skillset?
The Bottom Line
It's worth mentioning that the carpentry course does not limit you to just woodwork. The expertise and skills you acquire by studying for CPC30220 Certificate III in Carpentry can benefit you in various areas of construction. Embarking on this course at SITS College is just what you need to enrich your career and take another step toward realising your potential.