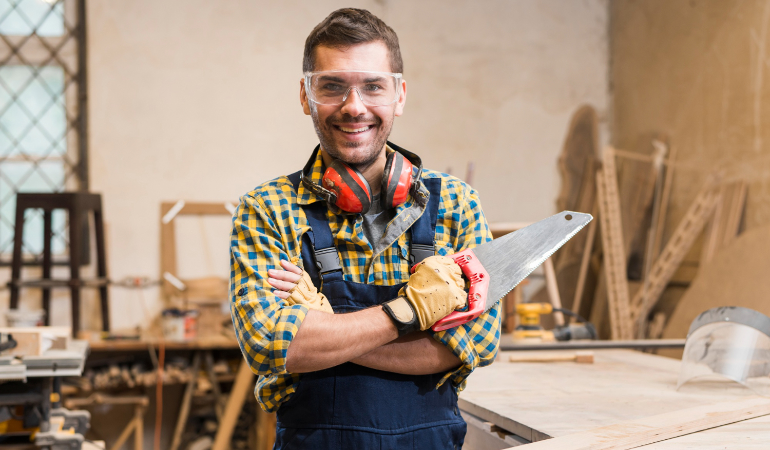 How Much Time and Skills Are Required to Complete Certificate III in Carpentry?
Carpentry has been practiced since time immemorial and has been modernised incessantly. It's one of the long-established professions in the world. Practices have improved on the way we build things with advanced techniques, yet the fundamentals invariably remain the same. Carpentry is a versatile occupation in the construction industry, with workers usually performing multipurpose tasks.
Australia is acknowledged for providing highly skilled and technologically sound carpenters. Carpentry courses are designed for building and construction professionals who wish to gain valuable skills with a trade outcome in carpentry, covering work in residential and commercial applications. If you study carpentry, you'll learn to perform a wide range of tasks in the building and construction industry. Carpentry is a physically demanding job. Above all, mastering this craft entails time, patience, hard work, and love for what you're doing. Wondering how long and what skills will it take to get your qualification? Will you have to balance work with study? Let's read.
CPC30220 Certificate III in Carpentry
Certificate III in Carpentry is a common vocational course people choose to graduate with skills to become qualified and adept carpenters. It provides complete professional development for students in quest of a fulfilling career in woodworking.
By studying for Certificate III in Carpentry, you'll gain the skills and knowledge to work on projects in residential housing, commercial construction, maintenance, repair, and renovations. This course takes 3-4 years full-time to complete and embraces a core unit of competency requirements that cover common skills for the construction industry, as well as a specialist field of work.
Skills Required
Graduates of Certificate III in Carpentry will be qualified tradespersons in the building and construction industry, skilled in many aspects of carpentry including:
- An acquaintance with building and construction according to the project needs
- Enhance your design skills and creative knowledge
- Pay attention to details
- Good verbal communication skills and cooperative relations with other employees
- Time management and focus on good performance on your tasks
- Problem-solving skills and multitasking ability to unleash your talents
- Basic knowledge of using computers and the necessary software, if required for the job.
- General demolition of minor structures
- Levelling operations
- Plan and organise work
- Read and interpret plans
- Use basic carpentry hand and power tools, and carpentry materials
- Roof making, construction of ceiling frames, and wooden flooring
- Shape materials and assemble component
- Apply work health and safety requirements
- Willingness to learn
- Math Skills
- Customer Service
- Adaptability
While a couple of these attributes may come naturally to you, the remaining can be polished with formal education. Do you want to carve a robust career from the bottom up?
Get started with Recognition of Prior Learning
If you've been putting off getting your qualification because you're worried it will be a timely experience, RPL can save the day! A Certificate III in Carpentry could take years to complete without the PRL process. Let's note the benefits of getting a Certificate III in Carpentry through RPL:
- Saves a substantial amount of your valuable time
- You don't need to repeat course units that you're already skilled at
- The skills and experience you already possess will be recognised
- You'll save money
- You can earn while you learn
RPL assesses the abilities and knowledge you've developed on the job site and determines whether or not you meet the necessities stated in Certificate III in Carpentry. If you're committed to getting your qualification fast, you need to demonstrate competency with supporting evidence in your portfolio, and our partner RTO who will assess your application will issue your nationally recognised qualification. You can shorten the length of your chosen course by measuring skills acquired through work, life experiences, or qualifications obtained from formal studies or training.
Work Placements
Apart from classroom training and assessments, you'll also need to undertake workplace-based learning, as part of your Certificate III in Carpentry. You'll gain practical skills at the workplace, giving you the chance to test out your theoretical knowledge. Learning carpentry with us means you'll get job-ready as you graduate. You'll also build connections with industry and professional experience through site visits, industry projects, live work, and industry-endorsed workshops.
Study with SITS College
Enrol today at SITS College, with a CPC30220 Certificate III in Carpentry to gain hands-on learning experience and master industry-based woodwork skills. This course integrates 34 units of competency to be completed during 104 weeks. At SITS College, you'll learn from experts who have valuable industry contacts and the latest industry-standard skills. After completing Certificate III in Carpentry, our graduates start their careers confidently with potential job roles such as Commercial Carpenter, Framework Carpenter, and Residential Carpenter. Let SITS College get you job-ready for the real world no sooner than you ever imagined.