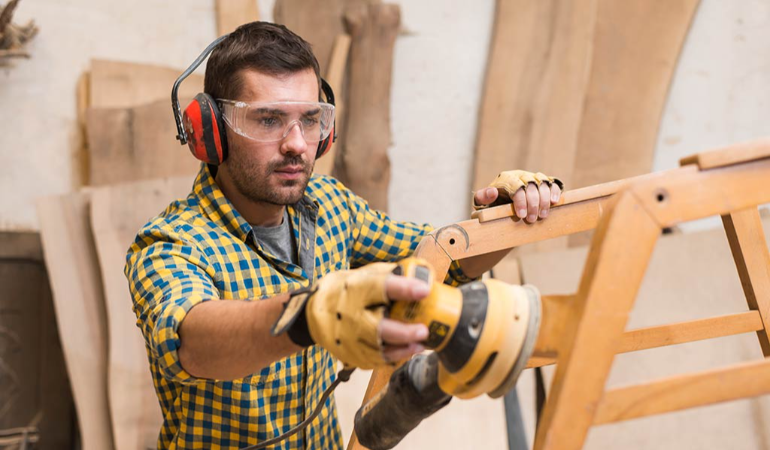 Job Possibilities After Completion of CPC30220 Certificate III in Carpentry
Carpentry lays the foundations for the rest of your career in construction. Becoming a carpenter in Australia is a great opportunity. The work is rewarding, the job sites are varied and you'll have countless opportunities to find your niche and carve out a solid career. Not only is it a skill that is in high demand in Australia but there are different branches of carpentry that you can explore and work within, that accompany bountiful career opportunities.
Carpenters play an indispensable role in the building and construction industry. A qualification in this omnipresent and dynamic industry can help you ladder up to success. Do you want to earn a qualification in the construction industry that has great employability? If you're considering investing in a building and construction qualification, carpentry is the best career choice. The surge for skilled carpenters in Australia is always on the rise with no scarcity of jobs. Prepare for a fulfilling, long-term career and become a certified carpenter by undertaking Certificate III in Carpentry.
Whether you're a fresher or you have prior experience, potential employers typically need validation of your carpentry competency. A Carpentry III Certificate can provide the proof you need for employers and clients.
CPC30220 Certificate III in Carpentry
Every year students from all over the world flock to Australia to study carpentry. Studying the nationally recognised CPC30220 Certificate III in Carpentry from College can open a wealth of opportunities for you.
High-quality training facilities at SITS College fully prepare students for a constantly evolving workforce. Here you'll learn from the brightest minds in the industry and have access to our extensive employer networks. Our curriculum is curated with the purpose to be future-focused and regularly updated in accordance with industry standards. Studying Certificate III in Carpentry will expose you to a range of specialised skills and techniques that you'll need when working out on a job as well as dealing with things like blueprints and client requests. You'll also get an insight into how businesses are run and what's expected. Sounds interesting?
Importance of Work placements
SITS College offers excellent on-the-job training for its students to get a glimpse inside the business of carpentry. You'll learn about what it's like to work as a carpenter and know-how on current carpentry trends.
Networking within the carpentry industry is vital for building a name for yourself within the industry. Making connections with tradies can help finding the right suppliers, have a heads-up about upcoming jobs, and share best practices and recommendations for other tradies when required. Develop the specialised skills that enable you to build contacts with clients in this industry. Are you ready to graduate workplace ready?
What are the job possibilities after completing study?
Completion of Certificate III in Carpentry will make you a recognised tradesperson, enabling you to deliver both residential and commercial applications on building and construction sites. Potential job titles include:
Commercial carpenters
As a commercial carpenter, you can work on commercial constructions- hotel buildings, office towers, restaurants, educational institutes, shopping arcades, and so forth. You must have adequate knowledge about using various materials like wood, plastic, plaster, and steel. You may also have to work on the installation of windows, ceilings, and panelling.
Industrial carpenters
Industrial construction ventures comprise mining infrastructure, power plants, factories, refineries, and more. Various resource industries like energy, resource extraction, and manufacturing generally recruit industrial carpenters. As a professional industrial carpenter, you'll be required to handle tasks like building scaffolding, partitions, concrete pouring forms, and bracing. You may also use your skills to work alongside civil engineers on projects such as bridges and tunnels.
Residential carpenters
Residential carpenters work on housing projects like detached homes, townhouses, private residences, and smaller projects. They typically work on making frames for the exterior and interior walls, constructing roofs, decks, and building stairs. In addition, some may even work on concrete foundations or put-up drywall and may have to give finishing touches on floors, and cabinets.
Taking it to the next level
It's raining lucrative job opportunities for professional carpenters with a score of well-paying roles in this domain. Earn higher wages, enjoy better conditions and have greater security! The more experience you gain, the higher will be the digits of your pay. The average salary for a carpenter in Australia is estimated at $55,000** to $65,000. The earning potential for qualified carpenters is strong with higher-level carpentry jobs paying over $150,000. According to the Australian Government's Job Outlook service, carpentry skills are in high demand with around 69,000 job openings expected within the next five years.
If you're looking for a rewarding career that can develop into your own business and become a registered builder you can ladder your way up to other remunerative carpentry courses- Certificate IV in Building and Construction or a Diploma in Building and Construction.
Final words
Carpentry is one of the most versatile careers to embark on. Master the trade and develop your talent. Commence your journey to a trade career with the potential to earn big. Australia needs qualified carpenters to build the residential cities and suburbs of tomorrow – trust your future with SITS College and graduate within an industry with excellent job prospects.