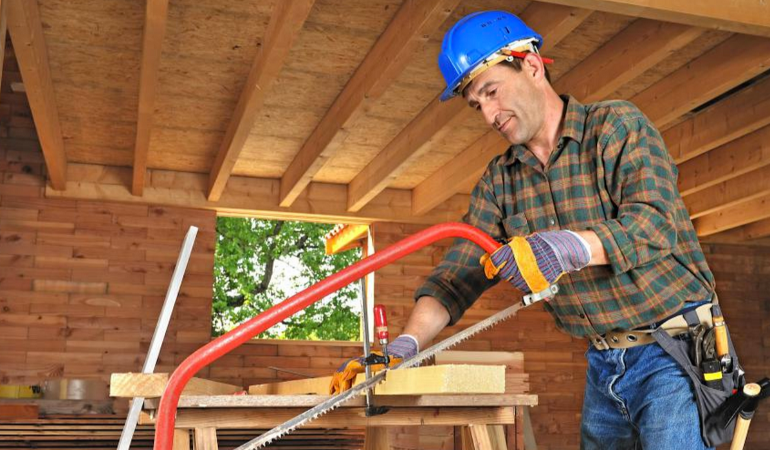 Move Up Your Career Ladder With SITS College Certificate 3 In Carpentry Course
Carpentry is a deep-rooted trade in the world that has been modernised incessantly. This time-honoured profession is an important component of the building trade that lays the foundation for the rest of your career in construction. The population spurt in Australia has transformed the construction sector into a large, dynamic, and booming industry, creating new paths for freshers and skilled professionals. trade Interested in furthering your career in construction? Whether you're new to the workforce, an experienced worker, or looking for a career change there is no better way to progress in your career, step into senior roles, or consider being self-employed than studying CPC30220 Certificate III in Carpentry.
Becoming a carpenter in Australia is a great opportunity. The work is rewarding, the job sites are varied and you'll have countless opportunities to find your niche and carve out a solid career. Not only is it a skill that is in high demand in Australia but there are different branches of carpentry to explore and work within, that accompany bountiful career opportunities. Sounds exciting?
Carpentry courses are curated for aspirants to gain valuable skills with a trade outcome in carpentry, covering work in residential and commercial applications. If you study carpentry, you'll learn to perform a wide range of tasks in the building and construction industry. Moreover, potential employers prefer to hire workers who have taken formal training to validate their professional proficiency.
If you want to envision your carpentry career soaring, CPC30220 Certificate III in Carpentry is the qualification you need to nail.
Let's know how you can do this.
Get qualified with SITS College
CPC30220 Certificate III in Carpentry offered by SITS College, is a popular pick among tradies that will help you mature with intricate woodworking skills and practical knowledge through hands-on training. With this course, you can hone industry-specific skills which will significantly help you connect effectively with clients looking for talented carpentry professionals in today's competitive job market.
SITS College's CPC30220 Certificate III in Carpentry, a nationally recognised qualification will provide you with skilling opportunities and insights for a sturdy and more sustainable future. Here you'll learn from the brightest minds in the industry and have access to our extensive employer networks.
Training at SITS College integrates hands-on work experience and project-based learning which will help you gain practical experience in this field and thereby improve your own professional practice. You'll become well-versed with the principles, techniques, regulations, and required skill set to thrive in the carpentry sector. This factual and practical know-how will be of great advantage to enhance your performance in your current role and where you hope to progress. You'll also get an insight into how businesses are run and what's expected.
Interested in creating a career in this flourishing field of handicraft?
Career Outlook
In Australia, the future for carpenters looks bright and promising. Trust us when we say that it's an industry that opens up limitless career paths you can follow.

Graduates of CPC30220 Certificate III in Carpentry are generally poised for an array of positions ready to work in residential and industrial settings as a Commercial Carpenter, Formwork Carpenter, and Residential Carpenter. Do you know? The potential and opportunities that accompany our Certificate III course are inconceivable.

Construction is a massive industry booming with a current employment size of 92,500* carpenters. New South Wales holds the largest share of carpenters (31.6%) * followed by Victoria (29.2%) and Queensland (20.9%).

It's raining lucrative job opportunities for professional carpenters with a score of well-paying roles in this domain. However, this grows as you gain more skills and experience. The average annual salary for Carpenter jobs in Australia ranges from $60,000** to $80,000.

Is an extraordinary career in carpentry calling your name?

CPC30220 Certificate III in Carpentry: Enroute to Opportunities

Wondering how you can take your carpentry career to the next level?

Further professional qualifications are also popular as they indicate a higher-level and externally verified level of skill and experience thereby generating manifold employment opportunities.

You can further build on your profile with advanced courses such as Certificate III in Joinery, Certificate IV in Building and Construction, Certificate IV in Building Project Support, Diploma of Building and Construction (Building), Diploma of Building and Construction (Management), Advanced Diploma of Building and Construction (Management).

Construction is a highly merit-based industry, so qualified carpenters need to prove their professional competency to earn opportunities to adopt higher-level positions in the industry a few years down the road. Ready to advance into senior roles by refreshing your skillset?

Conclusion

Do you want to carve a robust career in the booming sector of construction from the bottom up?

Getting qualified in this omnipresent and dynamic industry can help you ladder up to success. It's worth mentioning that a carpentry course does not limit you to just woodwork. With a CPC30220 Certificate III in Carpentry from SITS College, you'd better be off long-term, setting yourself up for success, strong work performances, and recognition all across Australia.

Hope this article was fruitful to help you understand how a carpentry course can boost your career and give you a strong foundation to excel.