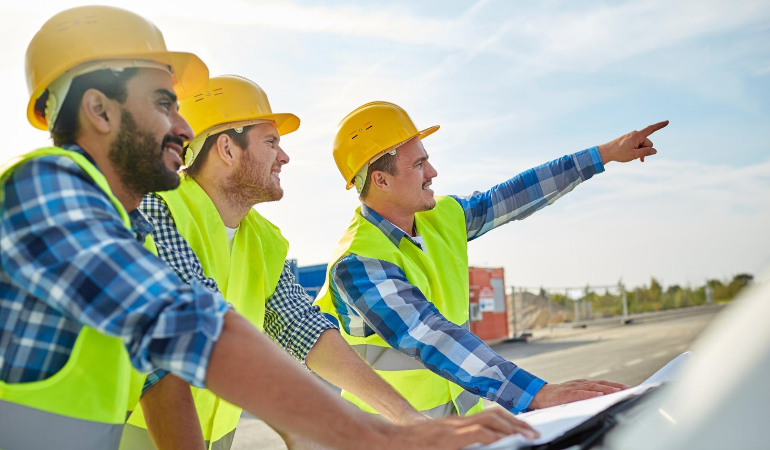 Plunge into an Advanced Diploma of Civil Construction Design and Make Your Mark Through Your Designs, Constructions, and Technology
Construction is a major and fast-paced sector in Australia booming with a vibrant workforce- thanks to the continuous demand for new residential and commercial projects.
Aspiring to secure a job in this large employment industry, particularly in civil construction is a great way to advance in your construction career. Civil construction workers are indispensable to society and apprenticeships are the pathway to entering this evergreen domain.
Civil construction, though challenging, is a creative and productive career as well. It's a dynamic-driven and diversified sector in Australia that employs hundreds of people from all around the world. Moreover, a civil construction worker's job is among the most renowned and in-demand professions for aspirants who wish to build a career in construction. Interested in designing residential and commercial buildings?
To set foot in the civil construction industry, you'll have to be well-versed with the skills, knowledge, and experience employers seek from you. With the right qualifications and formal training from a Registered Training Organisation (RTO), you'll be qualified and competent to work in this growing sector.
The RII60520 Advanced Diploma of Civil Construction and Design is a popular choice among tradies seeking to upskill or reboot their career.
Study at SITS College
Gain insights into the construction industry with the RII60520 Advanced Diploma of Civil Construction and Design offered by SITS College, a renowned training provider in Australia trusted by thousands of students.
This popular vocational qualification reflects the role of a senior civil works designer or para-professional designer supporting professional engineers. They perform broad, specialised, complex, and technical tasks, including strategic areas and initiating activities.
Move on to lead in a construction role that specialises in the design of functional and aesthetic projects to ensure the implementation of the client site requirements, and further gain the technical knowledge to initiate solutions to problems or management requirements.
SITS College's RII60520 Advanced Diploma of Civil Construction Design enables students to comprehend civil systems and structures such as buildings, roads, dams, bridges, and utility networks.
SITS College provides top-notch training to students, invaluable practical experience, and a comprehensive approach that transforms you into a highly employable individual, and potentially even offers permanent roles. Our trainers with extensive expertise in the building design industry provide the quality mentorship you need to be a job-ready designer with this nationally recognised qualification.
What Will You Learn?
A civil construction designer must know a little about everything, including design, IT, communication, and business management. Study at SITS College to learn about:
⮚ Australian building codes and code compliance
⮚ Materials technology
⮚ Construction technology
⮚ Data analysis and market research
⮚ Environmental Design, and Sustainability
⮚ Production of working drafts
⮚ Project documentation and management
⮚ Architectural administration
⮚ Communication skills and client collaboration
⮚ Inspection of completed projects
and a lot more.
Gain Industry Experience
Work placement as part of your Advanced Diploma course is a great way to gain practical experience and also for the networking opportunities you'll have. In this way, you'll get an opportunity to make connections and seek employment when you're still learning.
Building and development site visits, practical training using software, industry simulations and workshops, group projects and reports, industry research, sketching and draft work, and creation of industry projects, are some of the hands-on experiences that we provide at SITS College. Since building design is a constantly evolving sector, these added resources will give you a major advantage in the workplace. Does that sound exciting to you?
Career Trajectory
Studying for the RII60520 Advanced Diploma of Civil Construction Design can open doors to a myriad of rewarding roles where you can work for various government agencies, private developers, or even non-profit organisations all across Australia. You can choose to become a:
⮚ Civil Engineering Design Draftsperson
⮚ Road Design Draftsperson
⮚ Civil Construction Supervisor
⮚ Civil Design Draftsperson
⮚ Senior Civil Works Designer
⮚ Civil Engineering Draftsperson
⮚ Civil Engineering Technician
⮚ Road Design Draftsperson
⮚ Sewage Reticulation Drafting Officer
⮚ Structural Engineering Drafting Officer
⮚ Site Manager
⮚ Estimator
⮚ Contract Administrator
To Conclude
As a civil construction graduate from SITS College, the expertise and knowledge that you'll gain through quality learning with us will make you valuable to your organisation.
Metropolises, towns, and nations around the world need civil engineers to keep pace with developments. Hence, now is the ideal time for you to enrol for the RII60520 Advanced Diploma of Civil Construction and Design at SITS College. Channel your creative skills, and make your mark by creating engineering marvels.