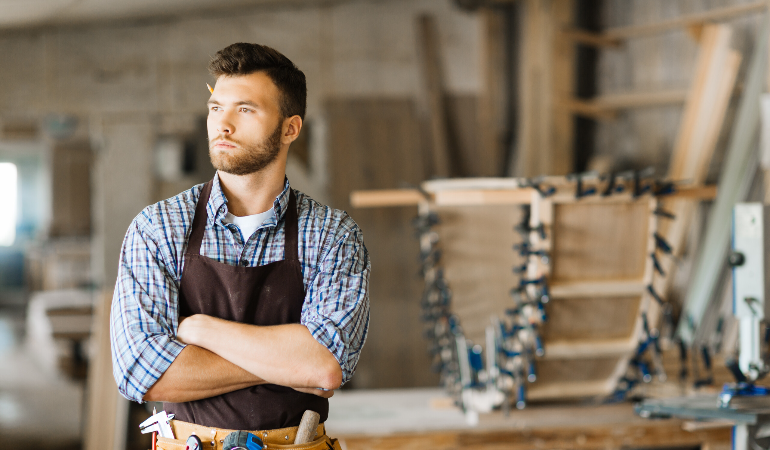 Scope of Carpentry Domain in Australia 2022
Carpentry has been practised since time immemorial and has been modernised continually. Along with being one of Australia's largest industries, the woodwork sector is also the most dynamic, exciting, and fast-paced. We all know that carpenters play indispensable roles in the construction industry. They are needed in all walks of life- at home, in industry, in construction, and so forth. Woodwork is a must everywhere and all through the ages carpentry is practiced as a skill.
If you like challenging, hands-on work then a career in carpentry is a great option regardless of whether you are fresher or looking for a career change. Today, the Australian market has a massive craving for qualified and skilled carpenters and their demand is just going to skyrocket in years to come. There were 126,600* carpenters in 2020 and this is likely to reach 136,800 by 2025. The roles within the carpentry domain are multifarious and you are assured that there will never be a scarcity of jobs. Truly! There would be no homes, factories, malls, or other structures without carpentry.
The Course
Certificate III in Carpentry is common vocational training for people who choose to graduate with skills to become qualified carpenters. It provides complete professional development for students in quest of a fulfilling career in woodworking. A structured mentorship program enables and empowers aspirants to take the smarter route and leverage growth and value creation.
Enrol today at SITS College, with a CPC30220 Certificate III in Carpentry to get hands-on experience and master industry-based woodwork skills. Highly experienced teachers at SITS College will guide you to work with a range of tools, equipment, and materials to construct, install, finish and repair structures for residential, commercial, and industrial developments. Throughout your learning sessions at SITS College, you'll become well-versed with the principles, techniques, regulations, and the required skill set to thrive in the carpentry sector. Immediately, after completing your Certificate III in Carpentry you'll be assured of employment through work placements. With this course, you can develop your professional skills and qualities that will help you connect effectively with clients looking for talented carpentry professionals in today's competitive job market. Interested in creating a career in this flourishing field of handicraft?
Career Outcomes
After completing the popular industry-focused and job-ready Certificate III in Carpentry, our graduates start their careers confidently with potential job roles such as Commercial Carpenter, Framework Carpenter, and Residential Carpenter. This course provides a trade outcome, incorporating work in residential and industrial settings thereby empowering students to take advantage of opportunities in today's job market. As a qualified carpenter, you'll be part of an in-demand occupation, ready to work across Australia.
Job Security
About their adaptability, carpenters can obtain employment in about every sector of construction. The construction of new homes, factories, workshops, and power plants has created abundant job opportunities for skilled carpenters in Australia. Consequently, carpentry is one of the most secure and desired professions in Australia. The employment growth for carpenters is projected to be 11.7 per cent in the coming five years to 2024. Skilled tradespeople are highly sought-after with employers finding it hard to fill vacancies for qualified carpenters and joiners. Carpentry is a large employment sector in Australia with around 69,000* job openings expected over the next five years.
Future Outlook
In Australia, the future for carpenters looks bright and promising. The construction industry needs you! Trust us when we say that it's an industry that opens up limitless career paths you can follow. It's raining lucrative job opportunities for professional carpenters with a score of well-paying roles in this domain. However, this grows as you gain more skills and experience. One of the most noteworthy blue-collar jobs in the world is carpentry. Let's peek into a few facts now. The most common annual salary in Australia for a carpenter is between $55,000** to $65,000 and the average annual salary for Formwork Carpenter jobs ranges from $60,000 to $100,000. Some of the higher-level woodwork jobs are well paid- you can earn well over $150,000 a year, depending on your job title and experience.
According to the Australian Government's Job Outlook Service, the weekly pay for carpenters is $1,358 and their current employment size constitutes 126,600 workers. Is an extraordinary career in carpentry calling your name? New South Wales holds the largest share of carpenters (31.6%) * followed by Victoria (29.2%) and Queensland (20.9%).
Further Study Opportunities
Completing Certificate III in Carpentry will also prepare you to build on your qualifications and apply for Certificate III in Joinery, Certificate IV in Building and Construction, Certificate IV in Building Project Support, Diploma of Building and Construction (Building), Diploma of Building and Construction (Management) or Advanced Diploma of Building and Construction (Management).
Carpentry is an exciting, evergreen, and hands-on domain. Presently, Australia employs millions of people from all over the world in the carpentry industry making it one of the most diverse sectors to be part of. Umpteen opportunities are knocking at your doorstep. Open the door, renovate your lost dream, and carve a worthy future with your tools in 2022. Join SITS College.