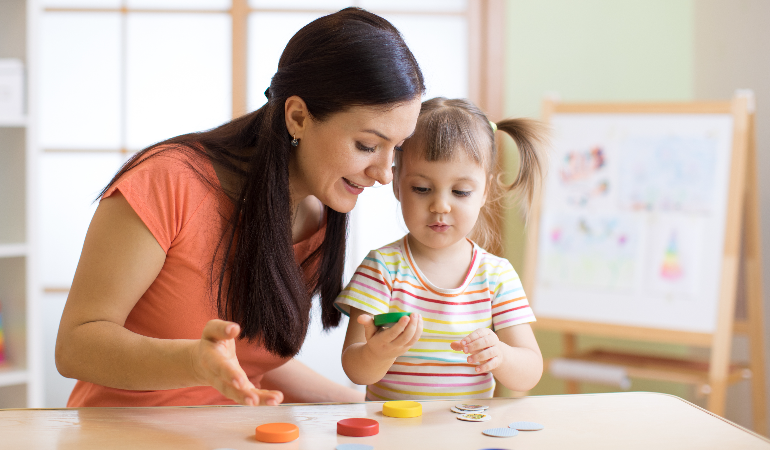 Stand Apart with a Steady and Stable Career in Education Support with SITS College Course
"Education is the most powerful weapon which you can use to change the world" - Nelson Mandela
As the above quote implies, education is the most valuable component of every person's life, and it is recognised by individuals from all walks of life. Empowering minds via education is one of the most effective ways to guide individuals down the right path and steer their future. For centuries, teaching has been seen as a noble profession. With practically all businesses at risk of recession, the education industry has defied all odds by delivering outstanding job possibilities. People have always been reluctantly pursuing all the cliché vocations, which has surely hampered their career possibilities and work options in current recessing times. Changing professional paths has long been regarded as a risk. However, the education sector has remained unaltered by the passage of time. Almost all industries appear to collapse at some point as a result of modernisation and upgrading, but the education sector can never truly be replaced or phased out. With such stable job possibilities and high-paying offers, one may undoubtedly build a successful career in this area.
Are you looking forward to establishing a flourishing career in the education support sector? Wait! We might have something interesting to offer you. SITS College comes up to you with our course CHC30221 Certificate III in School Based Education Support to help you attain your goal by acquiring the right skill set and knowledge. Through the extensive curriculum and practical training, we make sure that a candidate is job-ready after he completes this qualification.
The CHC30221 Certificate III in School Based Education Support is intended for anyone with a sincere desire to promote the development of young people's minds and hearts. This course gives you a solid foundation to excel in these professions, whether your goal is to work as a teacher's aide, learning support officer, or education assistant. One of the most crucial advantages of entering the education industry is the job opportunities and stability it offers. Education is the sole pillar of society and an education setting continuously requires trained working professionals for shaping the future generation. The education industry includes 1,164,800 employees with an expected future growth of 13.4%. The woman workforce contributes to 72.3% of the industry.*
Comprehensive Curriculum:
You will learn a variety of skills that are necessary for providing successful support in a school setting as you progress through the SIT 30221 Certificate III in School Based Education Support course. These abilities include comprehending child development and behaviour, putting individualised learning plans into practice, helping to manage the classroom, and fostering a welcoming and inclusive learning environment. The curriculum also includes crucial topics including working effectively with teachers and other professionals, promoting the development of reading and numeracy skills, and helping kids with special needs or additional needs. Let's take time to look at the extensive curriculum's coverage of each unit:
1. Comply with legislative policy and industrial requirements in the educational environment.
2. Contribute to student education in all developmental domains.
3. Support the development of oral language and literacy skills.
4. Support the development of numeracy skills.
5. Work effectively with students and colleagues.
6. Facilitate learning for children with disabilities.
7. Participate in workplace safety and health.
Practical Training Approach:
"The best way to learn is by doing."-Aristotle
SITS College training emphasises practical application in addition to theoretical understanding. Students will have the chance to take part in internships or simulated settings to get practical experience. When you complete the course, you will be well-prepared to enter the workforce because of the experiential learning component, which enables you to apply the ideas you learned in the classroom to actual scenarios.
You can become a part of a welcoming learning community by enrolling in the CHC30221 Certificate III in School Based Education Support. Expert instructors who care deeply about your success are teaching the course. To help you succeed in your education and future profession, they offer direction, coaching, and industry-relevant expertise. Additionally, you will get to work together and network with other students, forging relationships that will be extremely helpful as you start your professional career.
Career Outcomes:
Upon successful completion of the SITS College course, you are ready for vast career opportunities. You can find employment in various settings, including public and private schools, special needs schools, preschools, and community educational setups. Your role as an education support professional will involve working closely with teachers, providing assistance in the classroom, implementing educational plans, and supporting the diverse needs of students. The weekly earnings of the professionals in the industry go high up to $1299*.
The various job opportunities include:
1. Teacher's Aide or Teaching Assistant
2. Education Assistant
3. Education Worker
4. Literacy worker
5. Language worker
Furthermore, the field of education support offers prospects for professional growth and advancement. With experience and extra education, you can advance your career and take on leadership responsibilities such as education support coordinator or even become a certified teacher.
Final Thoughts:
In conclusion, the CHC30221 Certificate III in School Based Education Support is the perfect pathway for you if you are enthusiastic about changing the lives of students and seeking a secure and rewarding job. Through this extensive course, you will acquire the abilities, expertise, and real-world knowledge required to succeed in professions supporting education. Enrol in the course right away to stand out from the crowd and begin a steady and reliable career in education support.