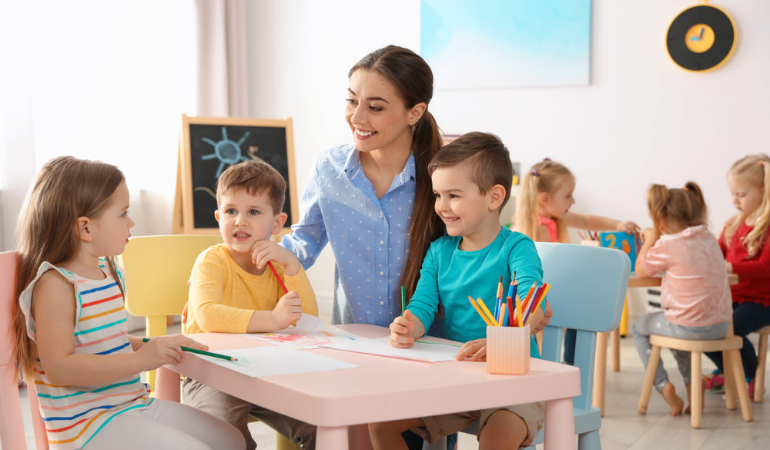 What Course and Training is Needed to Become a Teacher Aide
Introduction
A career as a teacher aide is both rewarding and essential in the field of education. Teacher aides play a vital role in assisting teachers, supporting students, and contributing to the overall learning environment. To become a teacher aide, it's essential to have the right qualifications and training. In this blog, we'll explore the course and training requirements, with a focus on the CHC40221 Certificate IV in School Based Education Support at SITS College.
The Role of a Teacher Aide
Teacher aides, also known as teacher assistants or paraeducators, work alongside teachers to provide additional support in the classroom. Their responsibilities include:
1. Assisting with classroom activities and lessons.
2. Providing support to students with diverse learning needs.
3. Supervising students during activities and breaks.
4. Preparing and organising teaching materials.
5. Collaborating with teachers to develop and implement individualised education plans (IEPs).
6. Creating a positive and inclusive learning environment.
Course Requirements-
The CHC40221 Certificate IV in School Based Education Support is a nationally recognised qualification designed to prepare individuals for a fulfilling career as a teacher aide. This course equips you with the knowledge and skills needed to effectively support teachers and students in a school setting.
Key Components of the Course:
1. Understanding Educational Frameworks: The course covers the fundamental principles of the Australian education system, including curriculum structures and teaching methods.
2. Inclusive Education: You'll learn how to support students with diverse needs, including those with disabilities or English as a second language.
3. Behaviour Management: Gain strategies for managing student behaviour and promoting a positive learning environment.
4. Supporting Learning: Understand the different stages of child development and how to assist with various learning activities.
5. Safety and Well-being: Learn to ensure the safety and well-being of students while in your care.
6. Communication and Collaboration: Develop strong communication and teamwork skills to work effectively with teachers, students, and parents.
Training and Work Placement
Practical experience is a crucial component of the CHC40221 Certificate IV in School Based Education Support. During your course, you will undertake work placements in actual school environments. This hands-on experience allows you to apply what you've learned in real-world situations and gain a deeper understanding of the role of a teacher aide.
SITS College: Your Path to Becoming a Qualified Teacher Aide
SITS College is a recognised institution that offers the CHC40221 Certificate IV in School-Based Education Support. Here's why SITS College is an excellent choice for your teacher-aide training:
1. Experienced Trainers: SITS College has a team of experienced educators who provide valuable guidance and support throughout your course.
2. Modern Facilities: Access to modern facilities that simulate real classroom environments, enhancing your learning experience.
3. Industry-Relevant Curriculum: The curriculum is aligned with industry standards, ensuring that you acquire the skills and knowledge required in the field.
4. Practical Experience: The course includes work placements in schools, allowing you to apply your skills and gain practical insights.
Career Opportunities
After completing the CHC40221 Certificate IV in School-Based Education Support, you'll be well-prepared for a range of positions in the education sector. Some of the career opportunities include:
1. Teacher Aide: Work directly in the classroom, supporting both teachers and students.
2. Special Needs Assistant: Provide additional support to students with disabilities or special learning needs.
3. ESL (English as a Second Language) Assistant: Assist students for whom English is not their first language, helping them integrate into the classroom.
4. Education Support Worker: Collaborate with teachers to implement individualised education plans for students.
5. Learning Support Officer: Work in specialised roles to support students with diverse learning requirements.
Conclusion
Becoming a teacher aide is a fulfilling and impactful career choice, and the first step is to acquire the right qualifications. The CHC40221 Certificate IV in School-Based Education Support at SITS College is a comprehensive program that equips you with the skills and knowledge needed to excel in this role. With experienced trainers, practical experience, and a strong curriculum, SITS College is your ideal partner in your journey to becoming a qualified teacher aide. Start your career in education and make a positive difference in the lives of students today.